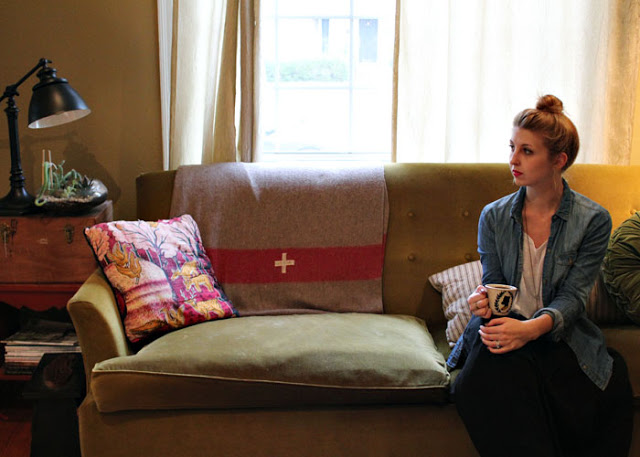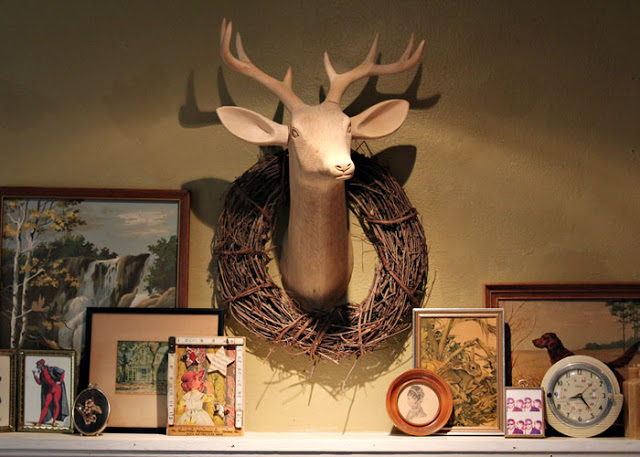 Image above: I have an unhealthy collection of found art. Everything found on my walls is either made by a friend or from goodwill. The wooden deer head is one of my favorite Paris Market purchases.
Q: When decorating your space, do you have any design commandments that you feel you must follow?
A: I like to instill what I call "cultivated chaos". I love everything about modern living but purging items seem to be a weakness of mine (though I'm getting better at it). Being an artist, I am extremely inspired by objects, especially items from the past, so I do my best to display our collections in a cultivated manner. Clean and polished clutter:)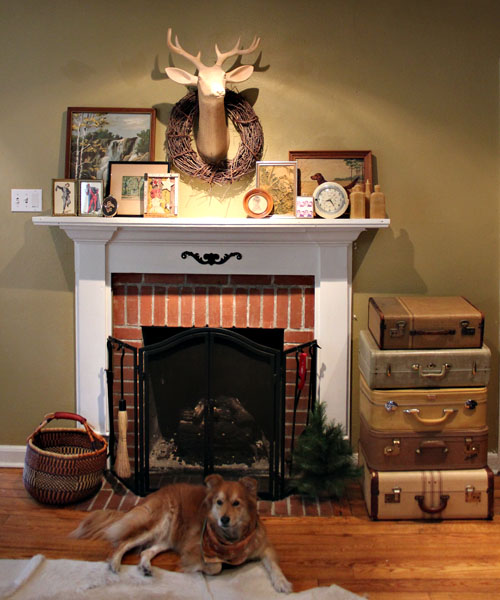 Image above: Our gas fireplace is a perfect accessory for the winter months. It's one of our fuzzy friend's favorite hangouts. The stack of suitcases are all vintage from our various travels, they like to hold my collection of Martha Stewart magazines.
Q: What is your favorite room in your house and why?
A: For selfish reasons it would be my in-house studio, it's my happy place...To gain good wife points though I'd have to say our living room. It's where my husband and I spend most of our nights, playing board games, watching SNL reruns, or snuggling under our favorite blanket.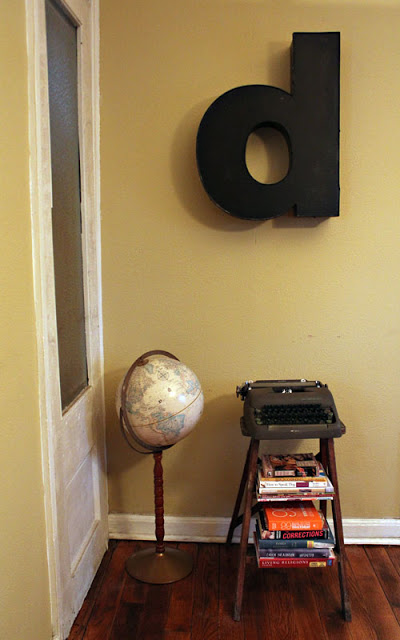 Image above: Because we rent and can't change our wall colors, I have made it my mission to cover these (sometimes) unwelcome hues with interesting wall hanging and pictures. This vintage metal "d" was one of my favorite finds from Habersham Antique Market. By fate, I found it the week before we got married and it's the first letter of my husbands last name.
Q: If you could name you decorating style what would you call it?
A: French Rustic Retro Charm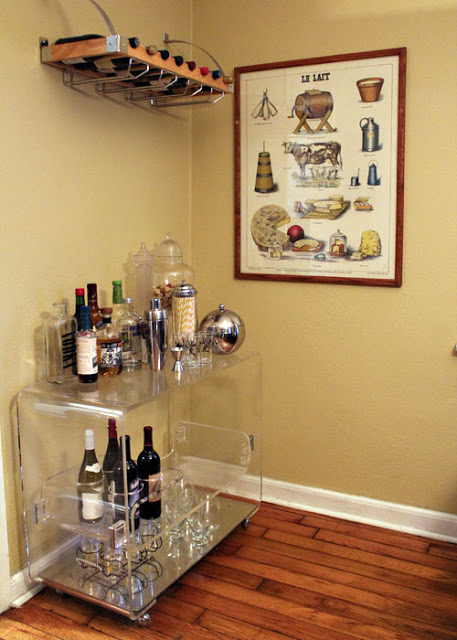 Image above: The 1960s lucite Bar Cart is my absolute favorite Paris Market purchase. I have never seen anything like it and we have a lot of friends who wish to covet it for their own. It is home to my grandmothers wine glasses and a collection of french wine we brought back from our honeymoon. The french print on the wall is one of my luckiest goodwill finds, its an original 1950s classroom poster.
Q: Do you have any current or favorite Home projects?
A: For a wedding gift, I built a fire-pit in our backyard for my husband. It is one of our favorite places to gather with friends, marshmallows in tow.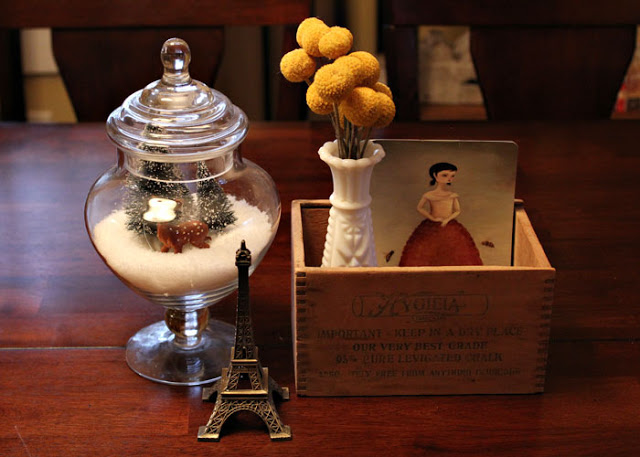 Image above: I love to freshen my space by changing out "shelf displays" regularly. Right now I have a collection of winter themed terrariums scattered about. What items I don't use I recycle to another part of the house until it's time to switch things up again.
Q: When was your house built and does it have a back story?
A: It was most likely built in the 1940s, most of the houses around this area were. I wish I knew what the first family was like that moved in here. I feel sorry for the fashion loving ladies back then though, these closets are tiny!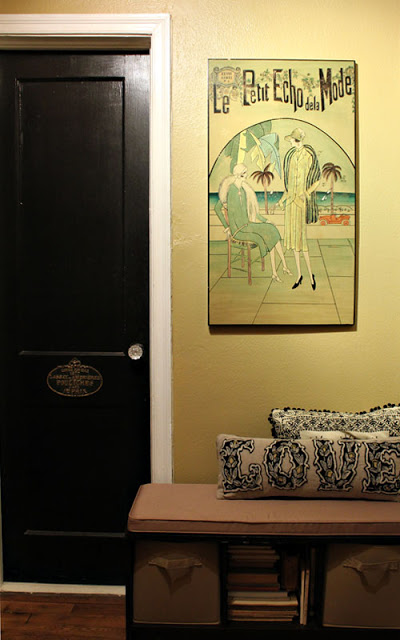 Image above: I love Paris. Not only is it a theme in our home, but the place where we went for our honeymoon and appropriately, that love is shared where I work. This "Le Petit Echo dela Mode" Panel was a garage sale find. The French Plaque on the door is from an antique store on Riverstreet.
Q: What is your favorite part about living in your neighborhood?
A: We are just a hop, skip, and a jump away from the Sand Gnats Stadium. We love to attend games and can even see the Saturday night fireworks outside our living room window.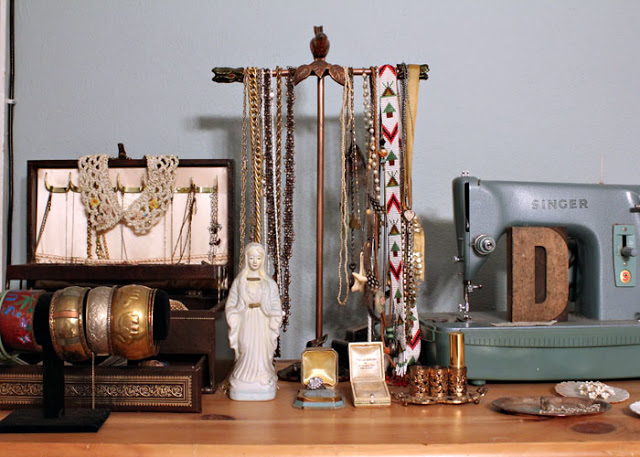 Image above: Our home is small so every surface is its' own little world. The top of our bedroom dresser is home to my collection of antique jewelry and accessories. The blue Singer sewing machine was my grandmothers.
Q: What's your favorite item in your home?
A: I try to surround myself with favorites always but I think the blue ribbon winner would have to be a Shirley Temple pitcher that was recently given to me by my Grandmother. She shares my love for quirky items and I always come home from visiting with a new treasure.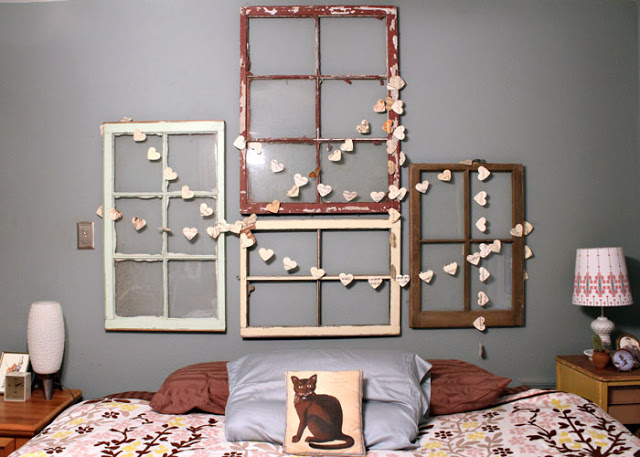 Image above: Being the thrifty people we are, my husband and I have yet to buy a proper bed frame. In the meantime I decided to create a headboard with these antique windows found in various alleyways throughout the city. I love how they're mismatched and each have their own beautiful flaws. I made these heart garlands for our wedding and they now have a home hung above our heads every night.
Q: If you could change one thing about your house what would you change?
A: More natural light! Being a photographer, the lack of light in our home is almost mood altering. We are fortunate to live in such a lush neighborhood but I believe the sun-blocking shrubs have worn out their welcome.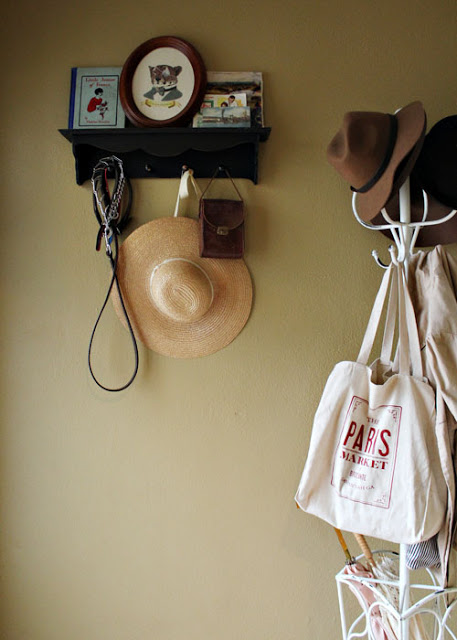 Image above: The entryway into our house is the first and last things we see of our home world throughout the day. I like to keep some of my favorite things here. A vintage hat rack found in an estate sale, as well as some favorite hats, my grandfathers binoculars and a stack of postcards from faraway friends.
Q: Describe your perfect homebody dream day.
A. Lazy morning in bed with pancakes and puppy under my arm. Afternoon spent in my studio crafting up something lovely. Evening cooking with my husband and playing video games together (I'll pretend I win).
Tune in for an upcoming studio tour, valentines day themed how-tos, and of course, plenty of vintage love!
xo, Mrs. Moth